2018 Spring CE Schedule - Houston Location
2/19/2018 (Permalink)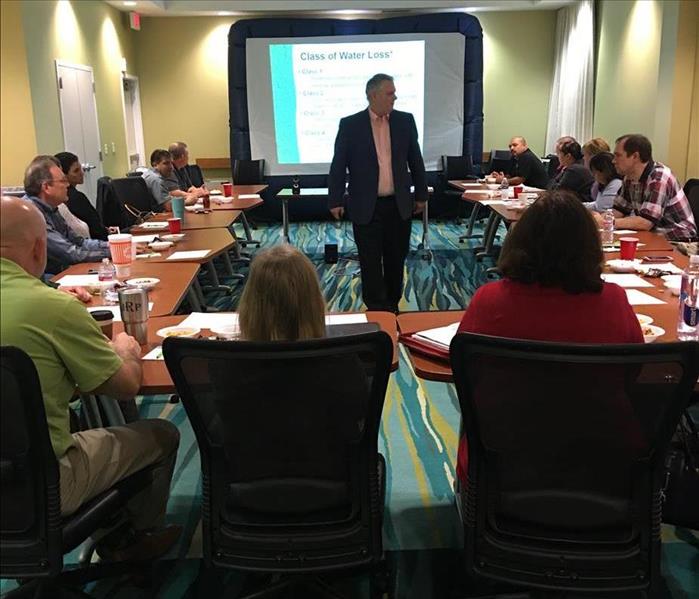 Local insurance agents look on as our Instructor David Johnson teaches them about Water Damage Restoration and how we properly mitigate a loss
The 2018 Spring CE Schedule has been posted for SERVPRO of River Oaks. Through our partnership with the American Red Cross, each class will be held at the Red Cross Building facilities at 2700 SW Freeway in Houston, (exit Kirby Dr coming or going). Registration for the classes begin at 8:00 a.m. and will include coffee and pastries. YOU MUST REGISTER PRIOR TO THE CLASS STARTING. All courses begin promptly at 8:30 a.m and you must attend 100% of the class to obtain CE credits.
March 21st Ethics 102 2hrs
Mitigation Awareness 2hrs
April 18thCleaning and Restoring 2hrs
Smoke Damaged Contents
Restoring Contaminated Bldgs 2hrs
May 16thFire & Smoke Damage Restoration 4hrs
June 13th Emergency Preparedness 2hrs
Biohazard Cleanup 2hrs
A free, barbeque lunch will be served at the conclusion of the courses.
To RSVP for the courses, please contact our office at 713-666-9222, or email your reservations to ce@SERVPROofriveroaks.com.
We look forward to seeing you!