SERVPRO teams up with local American Red Cross
5/18/2017 (Permalink)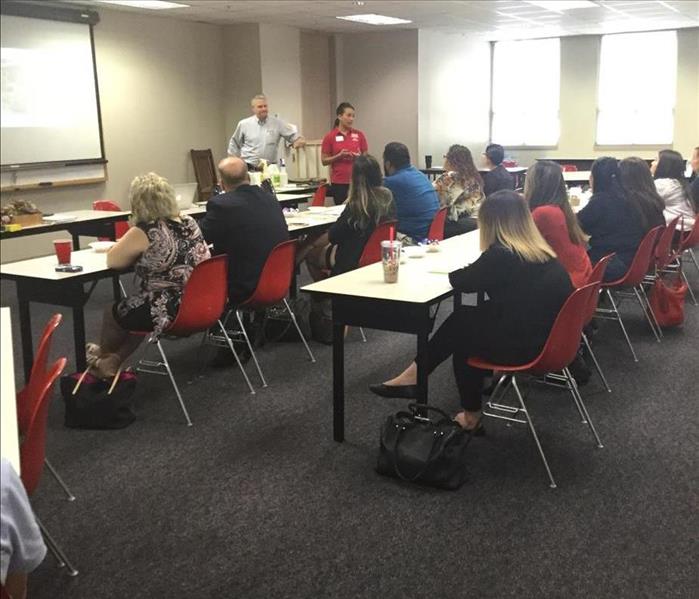 Stacy Halley with the American Red Cross discussing Fire Safety and Preparedness to the on looking local insurance agents and adjusters.
For the past year and a half we have teamed up with our local American Red Cross chapter. We decided to move our CE classes from a restaurant to the American Red Cross of Houston. This move was made to help bring light to our partnership with the American Red Cross, and also to make our agents and adjusters aware of the location of our local chapter.
The move turned out to be great for us as well as the American Red Cross. This past week we taught a Property Fire Damage Restoration course and our friend Stacy Halley from the Red Cross was able to come in and touch on fire safety and preparedness, as well as share her experiences of her own home fire.
Support Home Fire Relief
The American Red Cross has launched the Home Fire Preparedness Campaign to reduce the number of fire-related deaths and injuries by 25% over the next five years. This campaign provides families and communities with the tools and information they need to prevent and prepare for home fires.
SERVPRO of River Oaks is proud to have taken part in helping this cause by participating in the Home Fire Campaign. The Home Fire Campaign teams up local volunteers and Red Cross members with a local fire department to prevent home fires by installing smoke alarms in low income housing.
If you would like to help the cause by volunteering or donating to the American Red Cross we ask that you give them a call at (713) 526-8300.